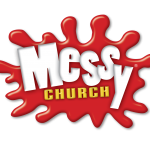 POSTPONED FOR THE MOMENT DUE TO COVID
Messy Church is church for children and adults that involves creativity, celebration and hospitality.
It includes a welcome, a long creative time to explore the biblical theme through getting messy; a short worship time involving story, prayer, song, games and similar; and a sit-down meal together at tables.
It's all-age.
It's fun.
Its aim is to introduce Jesus, to give an opportunity to encounter him and to grow closer to him.
Our Messy Church meets once a month from 3.15pm to 5pm.
All children must be accompanied by an adult!
Messy Church is a form of worship, known as a 'Fresh Expression of Church', for children and their parents or carers. It begins with a Bible story which is followed by a range of fun activities or crafts related to the theme. This culminates in a short act of worship followed by a shared meal. If there are any special dietary requirements, please let us know with as much notice as possible.
We run these is in the three Primary schools in the Benefice on a Monday, on rotation each month from 3.15pm to 5pm. If you cannot make the date of the one in your child's school you are welcome to come to any of schools. The dates will be published on school newsletters and calendars.
If anyone would like to get more involved or just help out contact Revd Sue Mann