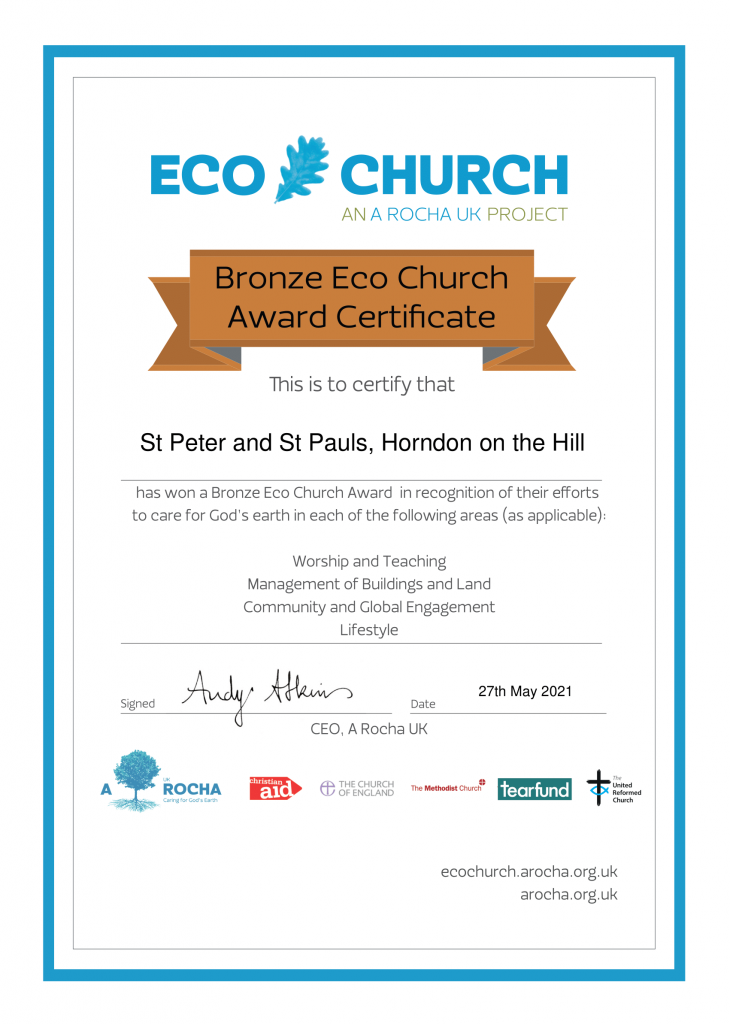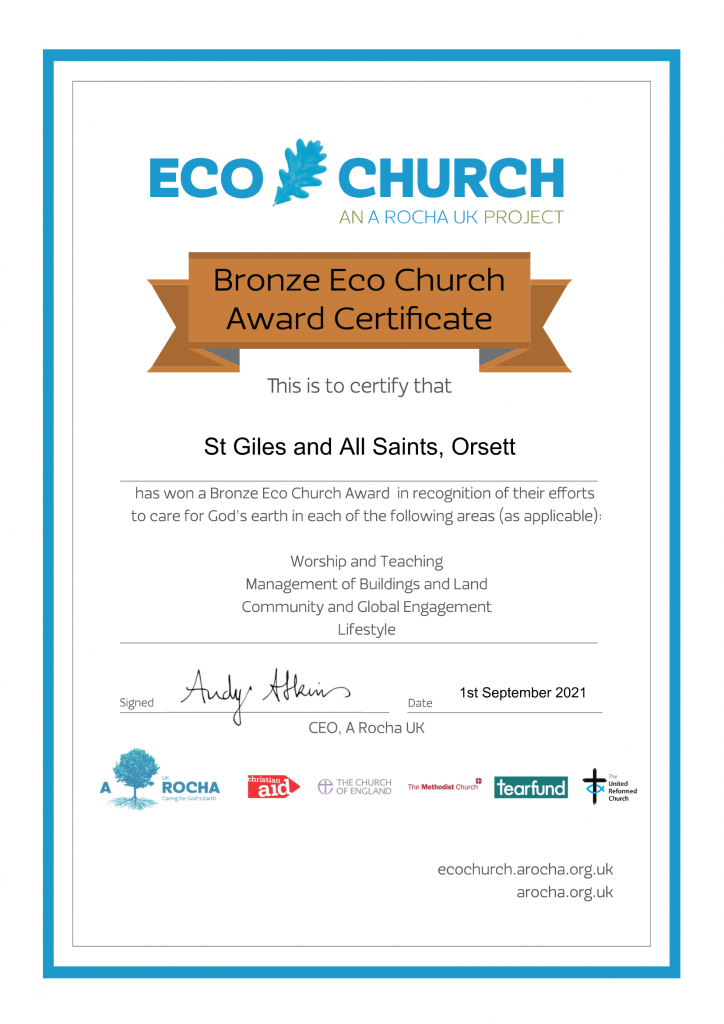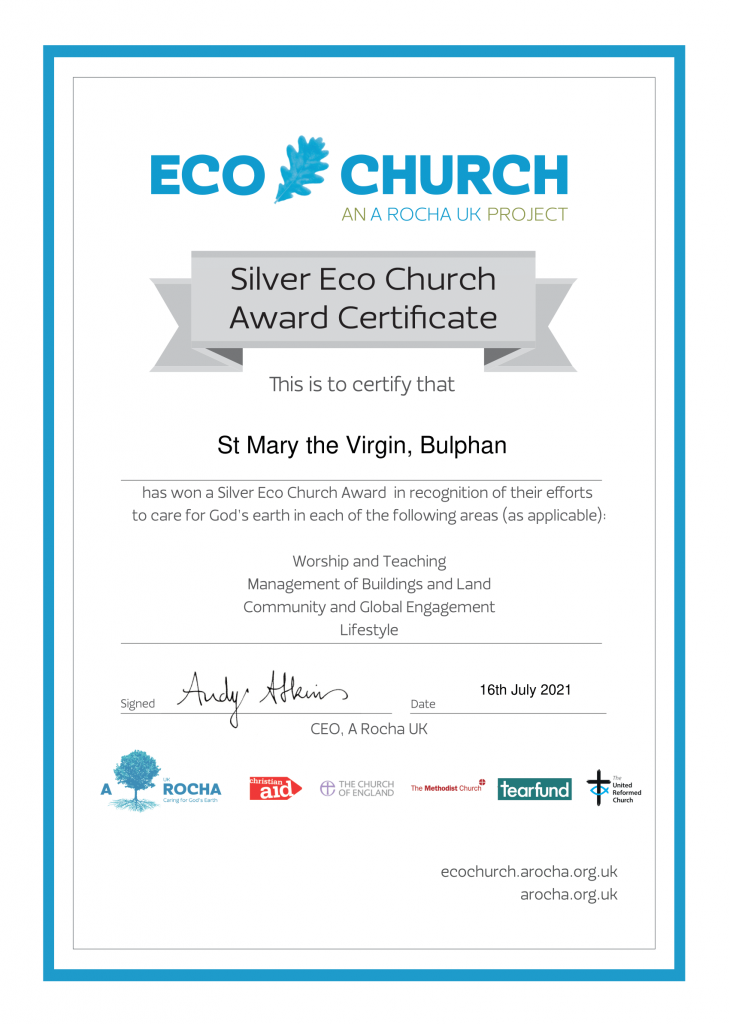 To achieve an Ecochurch award each of our Churches had to complete the unique online Eco Survey about how they are caring for God's earth in different areas of their life and work. The answers a church provided collected points towards an Eco Church Award – the more each church did, the more points it got!
The survey takes us through five key areas of church life:
Worship and teaching
Management of church buildings
Management of church land
Community and global engagement
Lifestyle
Below are some of the issues that have been discussed by our Ecochurch group.
The United Benefice has decided that we will always use Fairtrade tea, coffee and sugar and will use other Fairtrade products where possible.
Fairtrade is one simple way to spark change – and it starts with our choices. Choosing Fairtrade means standing with farmers for fairness and equality, and against some of the biggest challenges the world faces.
Fairtrade means fairer pay and more power in the hands of farmers, so that they can create change for us all, from investing in climate friendly farming techniques and clean water for their community, to nurturing women leaders and making sure children get an education. When you choose Fairtrade, you're choosing the world you want to see.
With Fairtrade you have the power to change the world every day. With simple shopping choices you can get farmers a better deal. And that means they can make their own decisions, control their future and lead the dignified life everyone deserves.
For more details please visit https://www.fairtrade.org.uk/
The toilets in the three churches in the Benefice are all part of this scheme.
By donating £60 to twin a toilet, you help fund a project in a poor community that will enable families to build a basic toilet, have access to clean water and learn about hygiene – a vital combination that saves lives.
When you twin, you are sent a certificate to hang in your loo – showing a photograph of your overseas toilet twin and GPS coordinates so you can look up your twin's location on Google Maps!
For more details please visit https://www.toilettwinning.org/
The amount of waste we recycle has increased. But we are still behind some of our European neighbours, some of whom recycle over 70% of their waste. Plenty of recyclable waste still ends up in our landfills. Think of it as a waste hierarchy:
As well as basic paper, plastic, and glass recycling, think of ways to reduce and re-use your household or church waste: 
Textile waste: many councils and charities have textile recycling collection points (https://www.recyclenow.com/what-to-do-with/clothing-textiles-0)

Household item waste: do you have things that could be repaired rather than thrown out? You could take them to a repair café, or even set one up yourself. Or, if they are no longer needed, think about donating them to a charity shop or advertising them on Freecycle [link].

Water waste: treating water is an intensive process which contributes to our carbon footprint. Take a look at Water Wise (https://waterwise.org.uk/save-water/) for their tips on how to save water.

Energy waste (see below).
Part of reducing our waste is switching to a 'circular economy' mindset; working to get the most out of resources, rather than operating with a 'use and dispose' mindset.
The Benefice has committed to pray for a specific overseas environmental project and will select a different project each year.
In 2021 the selected Project is the Great Green Wall
Growing a world wonder
The Great Green Wall is an African-led movement with an epic ambition to grow an 8,000km natural wonder of the world across the entire width of Africa.
A decade in and roughly 15% underway, the initiative is already bringing life back to Africa's degraded landscapes at an unprecedented scale, providing food security, jobs and a reason to stay for the millions who live along its path.
The Wall promises to be a compelling solution to the many urgent threats not only facing the African Continent, but the global community as a whole – notably climate change, drought, famine, conflict and migration.
Once complete, the Great Green Wall will be the largest living structure on the planet, 3 times the size of the Great Barrier Reef.
Improving millions of lives
The Great Green Wall is taking root in Africa's Sahel region, at the southern edge of the Sahara desert – one of the poorest places on the planet.
More than anywhere else on Earth, the Sahel is on the frontline of climate change and millions of locals are already facing its devastating impact. Persistent droughts, lack of food, conflicts over dwindling natural resources, and mass migration to Europe are just some of the many consequences. Yet, communities from Senegal in the West to Djibouti in the East are fighting back.
Since the birth of the initiative in 2007, life has started coming back to the land, bringing improved food security, jobs and stability to people's lives.
Growing more than trees
More than just growing trees and plants, the Great Green Wall is transforming the lives of millions of people in the Sahel region.
The Great Green Wall makes a vital contribution to the UN Sustainable Development Goals (known as the SDGs)
– a global agenda which aims to achieve a more equitable and sustainable world by 2030.
By 2030, the Wall aims to restore 100 million hectares of currently degraded land, sequester 250 million tonnes of carbon and create 10 million jobs in rural areas.
The Great Green Wall contributes directly to the 2030 UN Sustainable Development Goals. These 17 Goals adopted by world leaders aim to end poverty, promote prosperity and well-being for all, and protect the planet.
How does the Great Green Wall help the SDG's?
The Great Green Wall strikes right at the heart of the fight against poverty and contributes directly to the 2030 global agenda of the UN Sustainable Development Goals.
For more information please visit the Great Green Wall website – https://www.greatgreenwall.org/about-great-green-wall